Holiday Bonanza Gift #4 Revealed!
Hey, Tim here again. Today marks the halfway point in my 8-day Holiday Bonanza, and Santa (or, ahem, Hanukkah Harry) has been pretty good to you so far…
But it's about to get even better.
Because today's gift is a strategy with profit potential that's unlike anything I've seen in my 20+ years in the stock market.
It's something you can use to catch the market's most explosive moves…even if you have a small account.
In fact, this is the EXACT strategy many of my millionaire students used when they first started trading as broke college students…
Because the stocks this pattern targets trade for $5 or less per share.
And because of their low price, these stocks can move 10%, 20%...even 100% or more in a single day.
Take ticker symbol SIGL for example. Last January, I recognized that this pattern was forming on this stock, which was trading at .75 at the time…
So I bought in…and sure enough, within a few days, SIGL's price skyrocketed 5000%...
And I walked away with $11,450 in trading profits!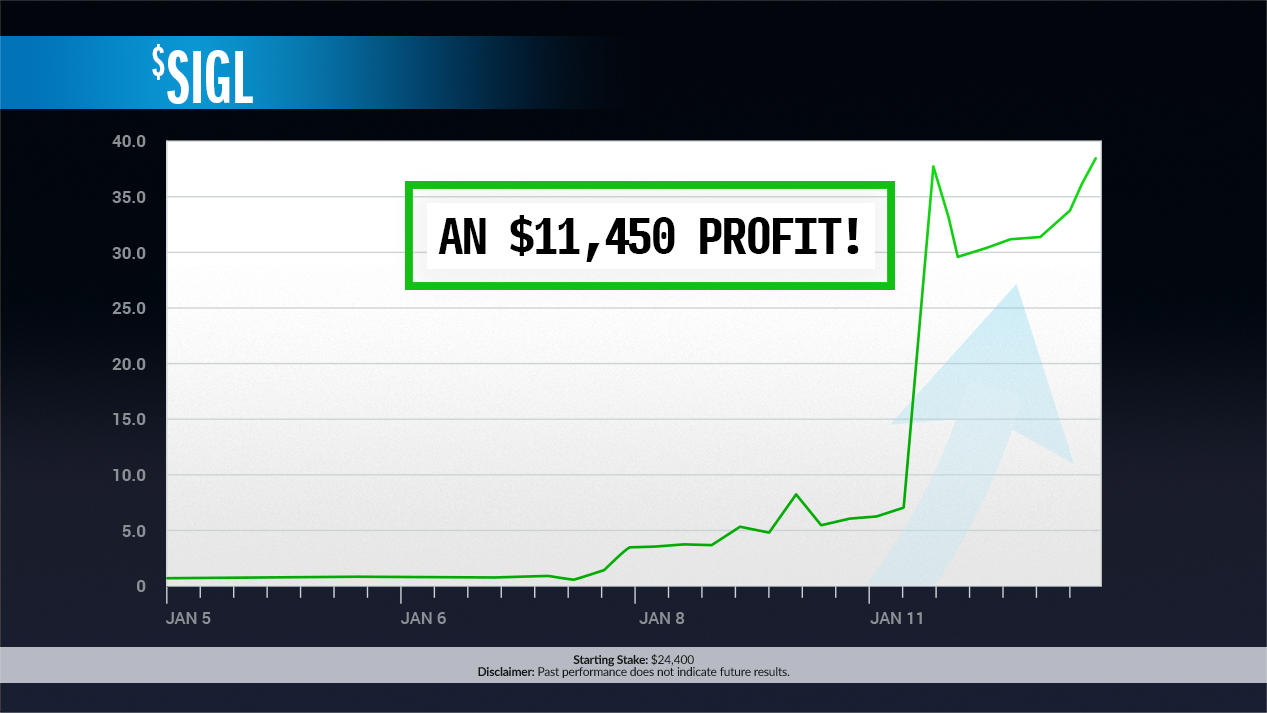 Best of all – this pattern appears all the time in the stock market, giving you ample opportunity to take advantage of this epic profit potential.
Of course, there is one catch – you need to know how to spot this pattern.
Lucky for you – I've taught countless students how to identify these opportunities, and many of them have used this strategy to catch extraordinary returns.
Like Mike Huddie, who used it to make $36,125 in a single day…
Or Mariana, who used it to make a $68,214 return…
And one of my biggest earning students to date, Jack Kellogg, leveraged this exact pattern to pocket himself $661,824…
And now, I want to extend the same opportunity to you.
So today, I'm opening the doors to my exclusive alert service for the first time in months.
When you accept this invitation, you'll learn EXACTLY what this pattern is…where to find these stocks and how to leverage this strategy to potentially reap massive returns.
I'll send you all the information you need to potentially cash out from my next trade alert.
I'll identify the target buy price.
I'll give you my thoughts on what I think the stock could do...
And if the trade doesn't go our way, I'll explain how to manage risk and cut losses.
In addition, because I want you to become a self-sufficient trader, I'm going to include a bundle of my favorite trading courses… that's almost 40 hours of training that will help you take your account to the next level.
And as a part of my Holiday Bonanza, you can get access to everything this powerful strategy has to offer at $1,000 off the regular retail price.
My goal for 2023 is to have more successful students – will you be one of them?
You can check out all the details of this special holiday gift by clicking the link below.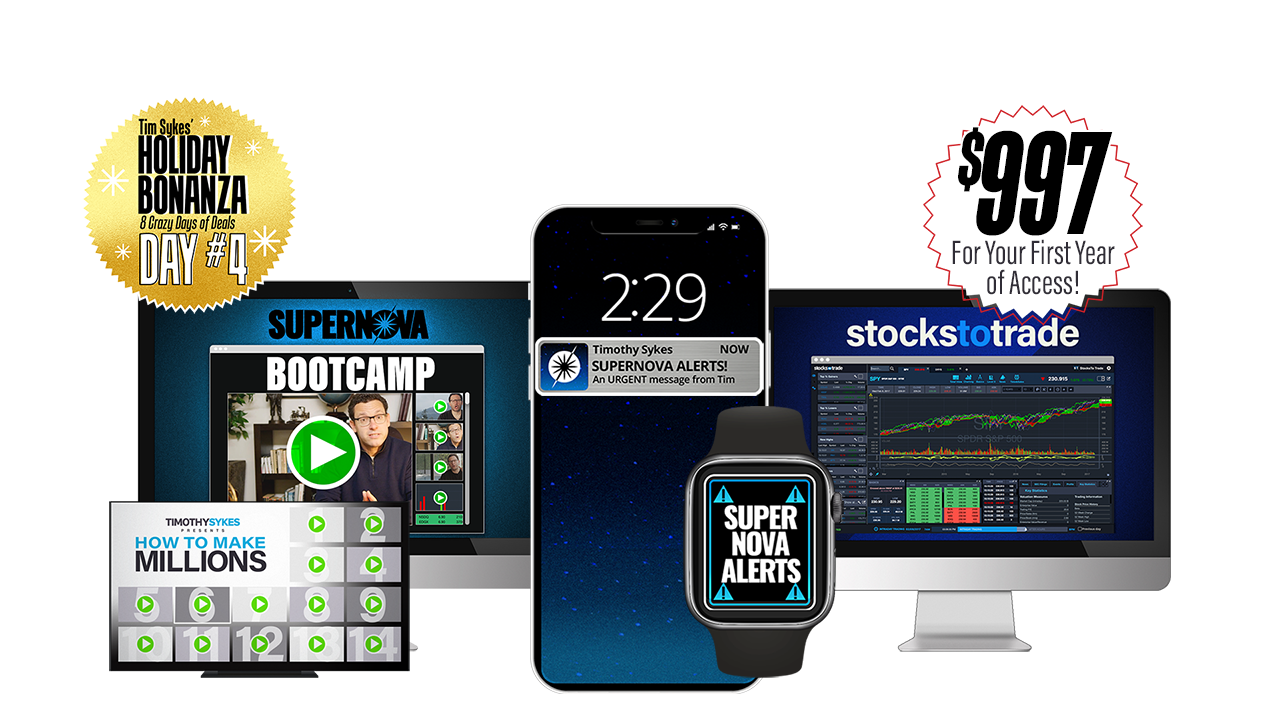 Claim Holiday Gift #4 Right Here
I'll be back tomorrow with Day #5 of my Holiday Bonanza!
Until then,
Tim Sykes
Millionaire, Mentor and Trader